How Two NFL Players' Sweet Tooths Made Them Hands-On Business Owners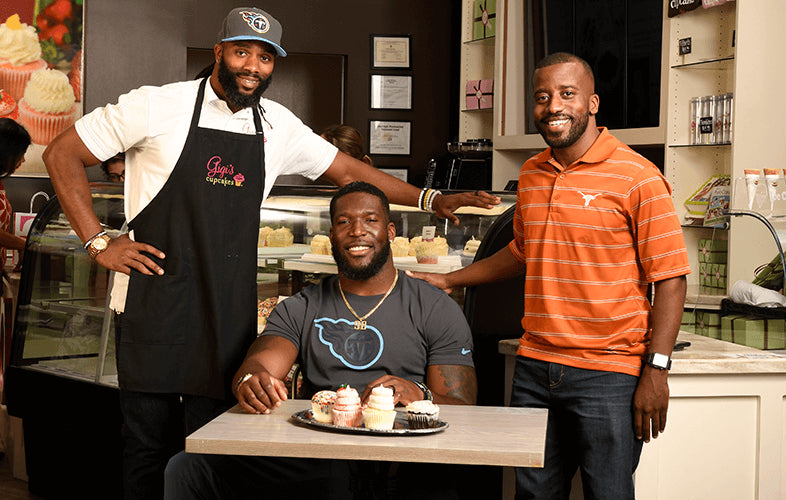 NASHVILLE, Tenn. — It's an odd juxtaposition to see a 6-foot-4, 257-pound NFL player with a voice deep enough to rival Barry White's spending his offseason selling cupcakes.
It has been an eye-opening adjustment for Tennessee Titans linebacker Brian Orakpo, the new co-owner of a Gigi's Cupcakes store located outside Austin, Texas. He has gone from seeking tackles on the field to putting red sugar crystals on strawberry shortcake cupcakes.
"I'm so aggressive at times that you have to tone that down when you're dealing with everyday people and customers. It's a different way of life," Orakpo said. "I have to tone that Rak down. I've been more Brian these days."
Orakpo and one of his two business partners, former Titans safety Michael Griffin, hope their venture will encourage more players to pursue entrepreneurial interests and risks.
This all started in February 2017, when Orakpo, Griffin and their good friend Bryan Hynson were eating lunch in Nashville and plotting possible business ventures. Griffin was out of football after a 10-year NFL career and looking for something to occupy his time. Orakpo, then 30, was looking ahead, eyeing potential interests after football. Hynson worked in banking.
Orakpo and Griffin loved Gigi's Cupcakes when they were Titans teammates. They took Hynson by a Nashville location to check it out, and he was sold. All three University of Texas graduates decided to start a plan to bring their own Gigi's Cupcakes store to the Austin area.
"It was a different side of a world that me and Brian Orakpo didn't know anything about. We can talk football all day. But we had to learn about business," Griffin said. "Learning how to start up a LLC to getting someone who is going to be working with your account to financing, just a lot of things we take for granted being professional athletes."
After a year of planning and building a store from the ground up, the three friends opened their Gigi's Cupcakes in Bee Cave, Texas, less than a month ago.
The celebratory opening was a reward for the long journey. All three partners were hands-on throughout the process. They had their own two-a-day trainings, which involved working from 6 a.m. to 8 p.m. for three consecutive weeks while learning how to open the shop, decorate, bake every cupcake they sell, be the cashier and close the shop. That didn't even include the financial side of it.
"It was harder than playing football," said Griffin, who noted that his wife told him she sees him less now that he is a business owner than she did when he was playing football. "This was like a completely foreign language. Being professional athletes, we're kind of spoiled. These are things we never worried about because there were large amounts of money coming in every year. It was definitely an awakening."
Orakpo added: "It was a grueling process. We made some mistakes, but we got the hang of it now."
Gigi Butler, the franchise owner, initially thought Orakpo and Griffin would be "Cinderella princesses" because they had a lot of money. But she was surprised when they went about their business and worked hard, particularly Orakpo as an active player. The team did tease Orakpo, however, for wearing his house slippers, which they call his "Black Panther Wakanda shoes," during training.
Each of the three partners found a role that he excelled in. Orakpo is the decorator. Griffin is the baker. Hynson works the cash register because he's the least intimidating.
"I wish more and more guys would take that risk or that jump. It keeps you busy. A lot of guys don't know what to do in the offseason — all they do is work out and go home," said Orakpo, who rushed to Austin after the Titans' season ended to prepare for the store opening. "My favorite part has been learning the business side and gaining business acumen. I encourage other players to start something they're passionate about and build their money from it."
There's a team of employees and managers in place to run the shop as Orakpo prepares to go back to Nashville to prep for his 10th NFL season. Griffin and Hynson live in the Austin area, so they will be nearby helping to steer the ship. Orakpo also lives five minutes from the shop, so he'll be there plenty when football isn't in session.
Griffin said their Bee Cave store had the biggest grand opening in the history of Gigi's Cupcakes, a Nashville-based franchise that has more than 100 stores in 23 states.
"It's not just about investing. It's about learning where your money is going," Griffin said. "Players' businesses often fail because they're hands-off. They just throw money at stuff. And when it does fail, you don't know why it failed."
Orakpo and Griffin plan for this to be the first of several business ventures they pursue. NFL players and former Texas teammates Michael Huff and Jamaal Charles are interested in getting involved in future endeavors. As Orakpo reaches the back end of his NFL career, his thoughts transition more toward business. But for now, football is still priority No. 1.
When Orakpo returns to the Titans, there will be a completely different regime in charge, led by new coach Mike Vrabel. Orakpo, a big supporter of former coach Mike Mularkey, has mixed feelings about the move. But he has been around this league long enough to chalk it up to the game.
"My hat is off for all the coaches we lost — Mularkey and his guys. I thought they did a great job. They brought us a long way," Orakpo said. "But it's a business. We all go on from this."
Orakpo had a conversation with Vrabel and some of the new defensive coaches earlier this offseason to discuss the broad vision of the 2018 Titans. Orakpo, one of the Titans' leaders, will be a key component of how Vrabel's culture will be established in the locker room.
"It was a good talk. I know all about Vrabel, a lot of admiration," Orakpo said. "I played against him when he was a coach and a player [in 2009, Orakpo's rookie year; Vrabel's Chiefs beat Orakpo's Redskins, but both players had a sack]. I remember those games well. I'm sure we're going to work. I'm excited."
Orakpo has no worries about whether eating cupcakes will affect his game. He admits that the red velvet ones are his weakness, but he has an 80-20 plan to determine when he eats healthy and when he allows himself to cheat. Plus, he has been working out since the day after the Super Bowl.
"Monday through Friday, I'm healthy. Weekends are when I indulge," Orakpo said with a chuckle. "It's been working for me so far."